2009 Awards for Excellence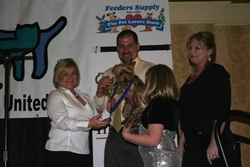 Hero Animal - "Milo" Keller
Sponsored by Metzger's Country Store + The Insurance Group

A Yorkshire Terrier is being hailed a hero after what he did in the face of a devastating fire in Mayfield, Kentucky.
Weighing in at a whopping four pounds, Milo isn't the type of dog Detective Shannon Keller is used to working with. Keller handles the drug dogs at the Mayfield Police Department. "I always thought, if I had a dog as a hero, it'd be my 60-pound Malinois taking some guy off me as I'm fighting him on the street through the police department. I never dreamed it'd be a four-pound Yorkshire Terrier, saving my entire family," said Keller, detective corporal at the drug unit in Mayfield.
But what Milo the Yorkshire Terrier lacks in size, he makes up for in courage. Keller's wife woke up when Milo was frantically barking at about 3 a.m. Friday, when the dog smelled smoke. Mayfield police say a fire started in the garage and quickly spread to all corners of the home. They believe it was started by electrical problems.
Smoke was still rising long after the fire was extinguished. Keller's neighbors helped them retrieve personal items. "My heart goes out to them. You don't ever think that's going to happen to us. But I'd do anything I can for them," said Judy McClure, Keller's neighbor. "Well, he's a little hero to us. If it wasn't for him, who knows?" said Keller. The Keller family believes guardian angels do come in smaller packages.


---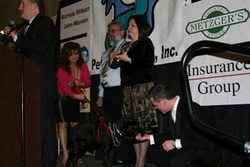 Media Advocacy Award - Kathy Melvin
Sponsored by Feeders Supply

Kathy Melvin has been just about everywhere. From the trenches to the spotlight, her efforts to help animals have been endless.
Kathy's skills at getting media attention for the animals know no limits. She has covered abandoned dogs, neglect cases, fundraisers and special-needs pets. When Animal Protection Association's shelter was sold, they needed to reduce their pet population by about one-half prior to moving to a new facility. Kathy contacted the media to profile the pets, and the community responded with immense support. By the time APA moved from their building, they experienced the highest-ever number of adoptions in a two-month period. This is only one example of Kathy's dedication.
Even though Kathy is instrumental in the publicity for several animal rescues and shelters, she prefers to work behind the scenes by fostering, transporting, working at fundraisers, and yes, even locating a backhoe to clear access to dog runs. She's the "go-to" person for critical cases because she can make things happen.
Please join us in thanking Kathy Melvin for her lifetime commitment to the plight of homeless animals.


---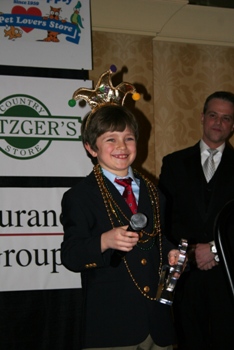 Youth Service Award Winner - Brooks Korfhage
Sponsored by Louisville Pet Lover's Expo

Brooks is only nine years old, but as the child of life-long animal advocates, he uses his own resources to make a difference for all animals.
At the age of six, Brooks rescued his first dog. While walking home with his mother, they found a chocolate Lab in the middle of the road. Brooks took the dog door to door, but no one recognized him. At home, he fed the dog, made a bed, and created posters to hang in the area. The dog was reunited with his family the following day, thanks to Brooks' efforts.
For his ninth birthday, Brooks requested pet supplies rather than gifts from his family and friends. He shared these gifts with three local animal rescues.
Jackson the Dalmatian helped raise Brooks and was a beloved family pet. When Jackson became ill last year, Brooks spent many hours caring for his dog and easing the transition to the Rainbow Bridge. Brooks also wants to help other Dalmatians and singled out a photo of a horribly abused Dal girl named Bliss. He went to his piggy bank, took out $20 and asked his mother to send it to Bliss. Brooks was the youngest donor to the organization.
In 2007, the Korfhage family visited Farm Sanctuary in upstate New York. Brooks loved petting the cows, pigs and chickens, and stated that he was very happy to be a vegetarian even though he takes a lot of flack from other kids about it. After meeting Wayne Pacelle of HSUS, Brooks tells everyone that he is Wayne's friend.
Brooks' new companion is a deaf Dalmatian named Disco. Brooks is very proud to be training Disco in hand signals, as well as working with Disco in agility courses.
Few youth exhibit the qualities of compassion and wisdom that Brooks practices every day. We are pleased to introduce him to you, and to honor Brooks Korfhage as the Youth Service Award winner for 2009.


---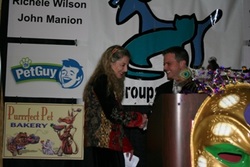 Trooper Community Service Award - Kelly Jedlicki
Sponsored by Jeff Seidenfaden and "Trooper"

As a Nurse Practitioner who works in pediatric anesthesiology, Kelly is a caretaker by nature. She tends to gravitate to the most needy creatures. Her volunteerism in Shelby County began with a bang several years ago when she adopted a special needs Beagle and she's never looked back, immersing herself in animal rescue and adoption.
Kelly is the coordinator of Shelby County's No-Kill Mission, secretary for the Humane Society, and also serves as the newsletter and website editor. She drives transports, volunteers at Shelby County's animal shelter and has fostered untold numbers of animals prior to their adoption. No animal is too critically ill for Kelly to welcome.
After reading a book by Nathan Winograd, Kelly decided that Shelby would become the first No-Kill county in the state. She followed his blueprint, garnered legislative support, enlisted veterinarians, partnered with other rescues, established protocol for the spay/neuter clinic, implemented a feral cat trap-neuter-release program, and has succeeded with every program she initiated. It's obvious that Kelly is a little dynamo and a force to be reckoned with!
For her extraordinary humane efforts, we are deeply honored to have Kelly Jedlicki named as the Trooper Volunteer of the year.


---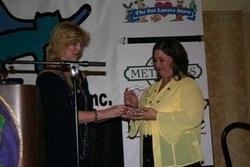 Road Warrior Award - Delsie Williams
Sponsored by Purrrfect Pet Bakery

Animal transporters are responsible for saving thousands of animals' lives every year. And when we have the opportunity to recognize someone who has driven as many miles as Delsie Williams, we truly see the significance of all animal rescuers.
Delsie is always on her cell phone and always on the road. She usually has a van full of dogs, pulled from various shelters in Kentucky. Through her relationships with rescues up north, she's often transporting to New Jersey or Chicago. Delsie Williams has personally rescued over 1,000 animals and guided them to safety. Her reward is the safety of each individual animal and the promising future for each pet.
It takes determination and a strong heart to be Delsie Williams, and we respect and honor her for being the Road Warrior of 2009.


---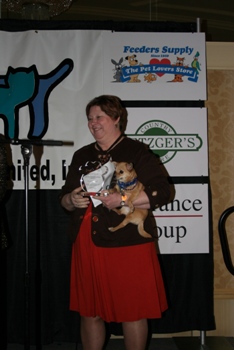 Animal Professional Award - Theresa Stilger
Sponsored by Feeders Supply

Theresa Stilger is a vet tech, and is the Animal Care Coordinator for the New Albany Floyd County Animal Shelter - but that doesn't begin to cover all that she does for the animals. In addition to the daily care and health of the animals in her shelter, she spearheads special projects and has created great success stories.
Theresa collected supplies and volunteers, and drove to Mississippi after Hurricane Katrina. She educates children about humane treatment of animals. She works tirelessly to promote and implement spay/neuter programs and responsible pet ownership. She rescues and works with the canine victims of puppy mills and dogfighting rings. Theresa has a creative mind and is always looking for new ways to increase adoptions. She secured retail space in a nearby mall to showcase the shelter's pets, and developed offsite adoption programs to get pets out into the community for meet-and-greets. Empowering her staff to become animal advocates is one of Theresa's many goals.
When you combine these projects with Theresa's professionalism, positive attitude and re


---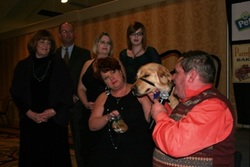 Service Animal Award Winner - Beau Walser
Sponsored by Richele Wilson and John Manion

We first met Beau at The FurBall in 2008 when his trainer was honored as the Youth Service Award winner. Beau was perfectly behaved, made many new friends, and literally fell asleep near the end of the evening. He had a long road to achieve this level.
For the past 4 years, Beau and Jim Walser have been "one". And although the organizations that train service animals are supposed to be in charge of matching animals to people, Beau chose Jim. No one denies this. And Jim is honored.
When he was in training, one of Beau's favorite activities was to open the gates and let all the service dogs out to play. Beau and Jim go to the YMCA early every morning to exercise before work. As he waits for Jim beside the swimming pool, Beau shows great self-control. Swimming is one of Beau's favorite activities. Beau is adept at bringing Jim his towels and shampoo, but also likes to play practical jokes like bringing Jim someone else's clothes. Jim is convinced that Beau knows what he's doing because Beau knows which locker is Jim's. Beau seems to enjoy watching Jim squirm as Jim tries to figure out whose underwear he has stolen. Beau is an honorary member of the early morning coffee club and will be more than happy to bring you your underwear (or someone else's) if you ask him.
When the day's work is done, Beau has a standing play date with the girls next door. He enjoys this reward and plays with his girlfriends until 8pm. At 8 o'clock sharp, Beau heads to the kitchen to get their evening snack. He chooses carefully from items on the kitchen table and brings a bag to Jim. After their snack Beau and Jim head to bed, laying side by side until daylight.
Beau is always on call and never leaves Jim's side, regardless of how scared he is or how long Jim is down or incapacitated. Beau never calls attention to himself and never demands anything in return. He starts each day anticipating Jim's needs and the needs of others when asked. We are honored to present Beau with the Service Animal Award for 2009.



---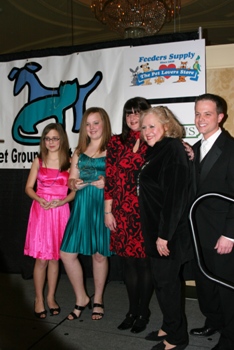 Good Samaritan Award

Sometimes we receive a nomination that doesn't fit into a category but needs to be acknowledged for excellence. The Critter Club at Kammerer Middle School is one of these exceptional groups.
Teacher Krista Wheatley facilitates and supervises the Critter Club's efforts. Students from Ms. Wheatley's special needs class have been volunteering a minimum of once a week (and often twice a week) at the Animal Care Society over the past 9 years. They help improve the quality of life of the shelter pets by socializing, walking, bathing, and feeding them. They also lend a hand to shelter workers by cleaning kennels and scooping litterboxes. In 2008, Ms. Wheatley expanded the Critter Club to include students outside of her special needs class by creating an after-school program open to all Kammerer Middle School students. Since the inception of the after-school program, the Critter Club has grown from 30 to 50 Critter Crusaders.
Members of the Critter Club:
* sent care packages to the former "Vick Dogs"
* engaged in a variety of fund-raising efforts for the medical needs of animals involved in cruelty cases
* collected supplies and food for local rescue groups
* empowered each other to report suspected animal cruelty cases in their neighborhoods
* created and presented a humane education skit for the Animal Gambill Show
* volunteered for various duties during the production of the Animal Gambill Shows
These students are among the best examples to their peers and our community. Please join us in acknowledging Krista Wheatley and The Critter Club of Kammerer Middle School.


---