S.N.I.P. Clinic Receives ASPCA Grant to provide free vaccinations


Louisville, KY (April 2, 2012)
—The Kentucky Humane Society's S.N.I.P. Clinic is offering free vaccinations to cats and dogs scheduled for spay/neuter surgery in April. The free vaccinations are made possible by a grant from the ASPCA® (American Society for the Prevention of Cruelty to Animals®). "We are excited to be able to provide pet owners savings of up to $25 per cat or dog," says Emily Clement, director of the KHS S.N.I.P. Clinic. "Many of our clients have limited income, so this savings will mean a lot to them and to the health of their animals." A rabies vaccination, which is required by law, normally costs $12-$15 at the clinic. Regularly, the canine DHPP and feline FVRCP vaccinations are $10 each at the clinic. Vaccines are only available to animals scheduled for spay/neuter surgery. The canine DHPP vaccination prevents four highly contagious diseases in dogs, some of which can be fatal. The diseases targeted are canine distemper, parvo viral enteritis, canine hepatitis and canine para influenza. The feline FVRCP vaccination targets feline distemper, a potentially fatal disease, as well as feline viral rhinotracheitis and calicivirus, which can lead to chronic respiratory infections. Funding is provided through the ASPCA Vaccination Safety Net program. The goal of this program is to provide low-income or economically distressed residents with free or affordable vaccinations for their pets as a means of both preventing the spread of disease and the surrender of unhealthy animals to shelters. The S.N.I.P. Clinic is part of KHS' proactive approach to ending pet homeless. The clinic provides high-quality, low-cost spaying and neutering to local, owned cats and dogs. It also serves community, free-roaming cats (often called feral cats) and animals from area shelters that do not have spay/neuter capabilities. To schedule a dog or cat for spay/neuter surgery, call the S.N.I.P. Clinic at 502-636-FIX1 (4391). For more information about the clinic, visit
kyhumane.org.
---
PGU sponsors spay/neuter efforts!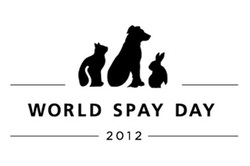 February 28, 2012

Pet Groups United sponsors spay/neuter efforts to celebrate
World Spay Day on February 28, 2012.
Pet Groups United (PGU), a coalition of animal welfare agencies in Kentuckiana, has updated its mission in efforts to reduce and eliminate the euthanasia of companion animals in the area.
PGU member groups work together within each agency's own specialty, to unite the animal welfare community and end the killing of adoptable animals. To kick off this new mission, PGU is donating $1800 to local spay/neuter efforts in celebration of World Spay Day, February 28, 2012. The following non-member agencies will each receive a $300 sponsorship to go directly towards spaying and neutering:
• Alley Cat Advocates
• Carroll County Animal Support
• Humane Society of Oldham County
• SNIP Clinic (Kentucky Humane Society)
• Shelby County Humane Society
• Woodstock Animal Foundation
"It is well known that cities who have adopted broad scale, collaborative efforts have reduced or eliminated the euthanasia of adoptable animals," said Jeff Seidenfaden of PGU. "With our coalition, we cover all the important aspects of this mission by providing; animal sheltering, pet adoption, low-cost spay/neuter, foster care programs, pet rescue and pet education. And there is no incremental cost or infrastructure necessary since our members have their own facilities and decades of experience! It is very exciting!"
PGUs member organizations are: Animal Care Society; Animal Protection Association; Louisville Metro Animal Services; New Albany Floyd County Animal Shelter; Shamrock Pet Foundation; Shelby County No Kill Mission and United Rescues of Kentucky. For more information and to donate, visit
www.petgroupsunited.org
or
www.facebook.com/petgroupsunited
.
---